Post by drakkenfan on Feb 19, 2009 4:59:54 GMT -5
I got back home from India yesterday. What an amazing trip!
I know this post is extremely long, but it's all the little details of my trip that made it so memorable.
Although the flight was long, it was ok. There was one time where my 11 month-old son Andre kept crying and didn't stop for two hours. But still the flight was good, and I even got a chance to relax and draw a little bit.
The layover in Delhi was quick. The men and women stood in separate lines to be searched. The Delhi airport was nice and clean just like an American airport. There was even a McDonalds there, and it tasted just like the McDonalds in the US, although it didn't serve beef. During the layover in Delhi we stayed in a little hotel by the airport called Hotel Star. We couldn't take a shower there because there was no hot water, although my husband Ben took a shower anyways in the cold water.
Andre stayed awake, so I didn't get to sleep. Eventually we all ordered roomservice at 3am, and ate butter naan and boiled eggs. We left early that morning for our flight to Kolkata, and we boarded the airplane outside up stairs.
During the flight to Kolkata, the flight attendant didn't seem to understand what Andre's car seat was. At first she wouldn't let me hook it up to the seat, until I explained that I had bought a seat for it. Then she told me that for the safety of the baby I had to hold him instead. I don't think she
had any idea that car seats are actually safer. That flight was pretty quick, and when we left the plane in Kolkata we were quickly greeted by Ben's uncle who works at the airport. He led us to Ben's dad. Ben's uncle handed him Andre and he was very happy.
We drove to Ben's dad's house, and I held Andre in the car. We weren't been able to use the car seat in India because there were no seatbelts in any of the cars or taxis we rode in. It was so fun watching all the things happening around us as we drove through Kolkata. This place is so full of life, with so many unique and sometimes funny things happening. For
instance we drove past some road workers. They were tearing open the street for construction, but instead of a jackhammer or a construction vehicle, they all had rock hammers (the size of a normal hammer) and they were hitting the pavement with them. Also, a large six-storey building was being torn down, not with dynamite, but by men with huge sledge hammers. Also during my trip I saw 5 people on a motorcyle (2 adults and 3 kids). The trucks and buses are all painted with pictures and colorful writing. And there were so many other interesting things we saw too.
"Lily at the door to Ben's dad's apartment"
When we got to the house I gave Ben's dad a photo album, and Ben's sister Nandini invited me shopping, but I wanted to sleep instead.
Our reason for going to India was Nandini's wedding. So after my nap we got dressed up nice and drove to the wedding official place, which was at someone's livingroom table. Dev and Nandini signed a document with Ben as the witness, and then they were married. They exchanged flower garlands, and they touched the feet of their family members to get
blessings. Everyone there had to eat a piece of sweetened goat cheese, I don't know why. Then we all went to Dev's parent's house. It's a nice house, very big. We were greeted by one of Dev's relatives playing a conch-like shell with carvings all over it. It sounded like a horn, and it's used at weddings. Of course I had to try it too. It was cool. I want to buy one. It was much more difficult than it looks, but I eventually did it and everyone cheered. The trick is pouring water on the shell first, then putting your lips inside it. They had lot's of food for everyone- pizza (with
chicken and corn on top), chicken stew, rice dishes, fish, carrot pudding, rice pudding, cakes, and many other desserts. It was good.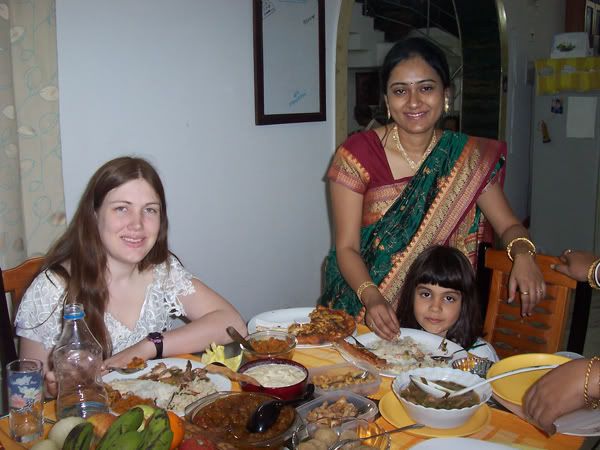 After we ate, we left and came back to Ben's dad's house. Nandini slept next to Lily in the other room. Even though she and Dev were officially married they didn't get to stay together until the other wedding ceremony events took place. Andre didn't fall asleep until 2am that night then woke up every half hour throughout the night. It was a little difficult for him to adjust to a new timezone.
In the morning we had eggs, naan, and cream of wheat for breakfast. Then around 11am Andre took a long nap so I finally got some sleep. I slept from like 11am to 5pm. Then Ben, Nandini, and I went shopping because Andre and Lily were still alseep. Ben's dad watched them. I got an orange sari, Ben got a fancy blue Indian outfit to wear at the wedding. We
got Lily an Indian barbie and a necklace, and Andre got 2 outfits. We had dinner at pizza hut. It was 10:30 at night but there was still a 25 minute wait outside the restaurant because pizza hut is so popular in India. The vegetarian pizza was good.
The next morning we got henna drawn on our hands. Only Nandini, my 5 year old daughter Lily, and I had it done, since it's mainly a custom of a different part of India.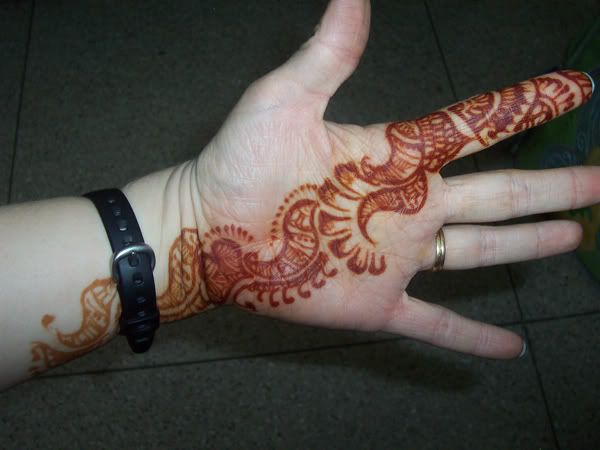 "the henna on my hand"
At lunchtime yesterday, many of Ben's
aunts and uncles came over to do the custom of cooking Nandini's last meal from her family, it's called Aii-Buro-Bhat.
That evening Ben, Lily, Andre, and I went shopping and bought a salwar for Lily. It's green and pretty. Then we went to dinner at an Indian restaurant called Orkos. It was the first time I've been at an Indian restaurant here where they were able to cook the food without making it too spicy, and it was really good (other than a maggot in the toppings that crawled onto Ben's arm). Nandini dared Ben to eat a whole raw green chili and she'd give him $10. And he actually did.
That night people stayed over and were talking until 1am. Then I got a little bit of sleep until Andre stayed up for 2 hours in the night, then a parade of people showed up at 5am, blowing the horn shells and making oo-wooo-woo sound with their voices like a pow-wow.
At that point I took part in a very interesting ritual to invite the Ganges River to the wedding. We went outside to a water tap in the parking area. And we made all that noise and lit incense and threw bread and leaves into the water. Then we gathered the water into a pot, with red painted leaves in it.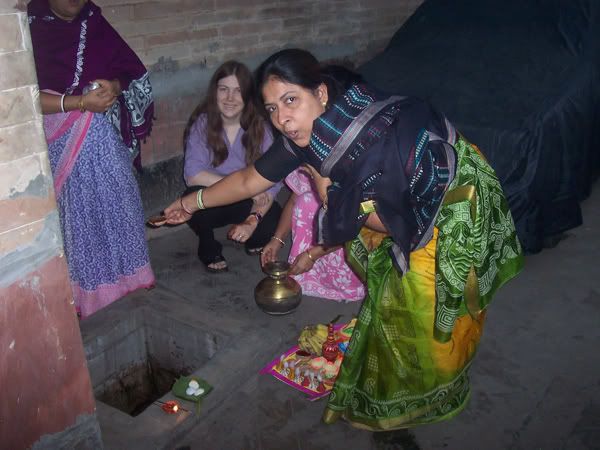 "inviting the Ganges to the wedding"
Next a ritual happened where Ben's uncle was chanting and there were some flowers and things. Nandini was wearing a crown next to him. Lily loved watching all of this and said it's exciting.
Then there was a wedding ritual where they put cow poop on the wall. It was so funny. Fortuanately for Nandini, they couldn't find cow pee, so they had to skip the ritual in which she was supposed to drink it. There was another ritual after that where someone put turmeric (the most holy spice) on everyone's face. They completely covered Ben's face with it.
Next a parade of people arrived with ornately decorated gifts from the groom's parents. The gifts filled the livingroom, then filled the bedroom too. It was bigger than any Christmas. Some of the gifts were clothes, jewelry, cosmetics, a fish, sweets, and a big elephant statue made entirely out of sweetened cheese. It was really a sight to see.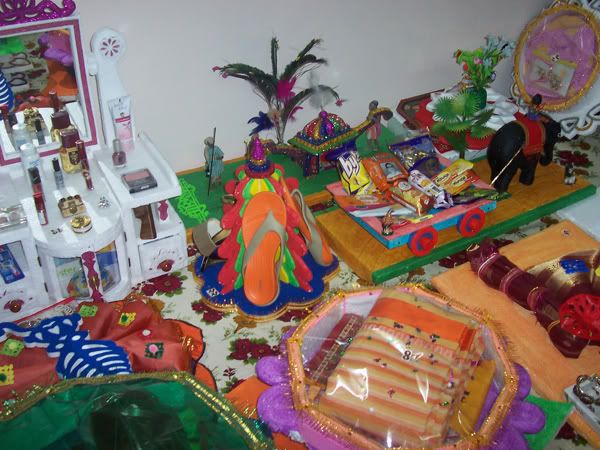 "a few of the gifts"
The apartment became crowded, so Ben, Lily, Andre, and I took a little break outside and fed chicken to some stray kittens. Lily named one of the kittens Rauwy, and talks about it alot.
"Rauwy"
After that we went to the wedding place for the wedding ceremony hosted by the bride's family. There were about 350 people at the ceremony. I wore my new sari, and someone helped me put it on. It was
difficult to wear, and safety pins are needed to keep it on properly. But it looked very pretty, and lots of people complimented me. Nandini's face had beautiful make-up painted on it, which took 4 hours. She had a special chair, like a throne. Lily sat by the throne with her for a
long time, because I think Lily felt like a princess.
"Me, Andre, Lily, Nandini, and Ben"
The buffet in the wedding ballroom was massive, but because of the spicyness I ended up eating mostly bread and glasses of pineapple juice. The place was decorated so beautifully.
It was nearly impossible to keep track of Lily and Andre in the huge crowd. People kept taking Andre from me, and posed with him for photos and passed him around to other people. They kept pulling Lily away
from me too, and a couple of times I couldn't find her because she was in various other relative's hotel rooms. It was crazy, and a little stressful for me, but I tried to remain polite in all of the chaos.
The wedding started when Dev arrived and put on a hat that looked like a white tower. Ben and 3 relatives carried Nandini around Dev a few times then there was some sort of argument in the Bengali language about how many more times she needed to circle him. Ben later explained that the argument is part of the ritual, and the the bride's relatives are supposed to lie and say they already circled enough times when they didn't, and the groom is supposed to lie about how many times they circled, and try to get them to circle extra times.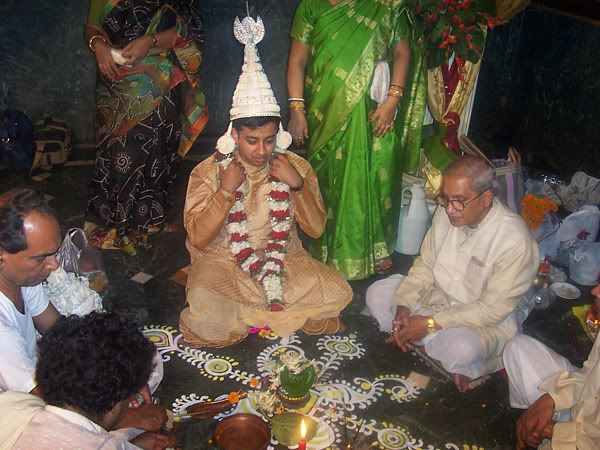 Then Nandini stood up in front of Dev and they exchanged flower garlands several times.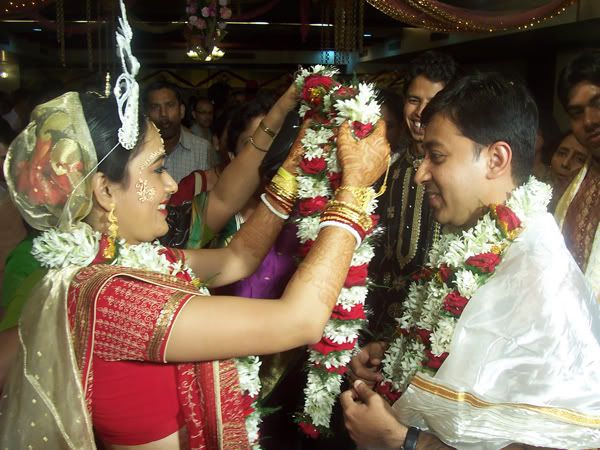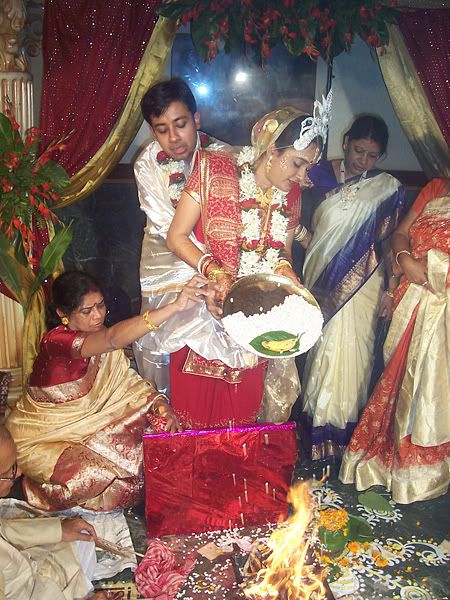 And after that Lily, Andre, and I went upstairs to the room that had been rented for us. The wedding continued on without us until past midnight, even though it had started with rituals at 5am. Nandini and Dev stayed in the same hotel room together that night, but other people had to stay with them.
-- story continued below---